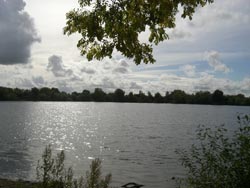 Swim
The swim is a single 1.9km lap in the well known Lake 32 based in the centre of the Ashton Keynes water park. The lake can be swum most days of the week, for more infomation please see ukwatersports.co.uk.
The bike course is new for June 6th 2021
You can see the bike course here :
https://www.mapmyride.com/routes/view/4257970519
Local resident info: First cyclist due on course around 06:20am, and majority of cyclists clear of bike course by around 11am
No roads are closed, but Police and Traffic Management contractors will stop traffic in some cases to allow cyclists to cross junctions 

Download Run Map
Run
With the event being held in the water park, then the athletes will be treated to a mixture of tarmac and hard pack pathing for the 13mile run that takes in lake side paths as well as local village routes before finishing back close to the lakeside transition in the finishers area.