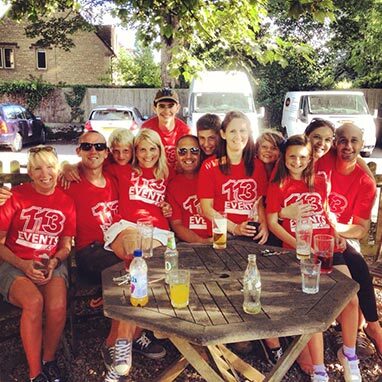 Graeme and crew enjoying a well-earned beer after the event.
About 113 Events Ltd, Cotswold based Triathlons.
113 Events are a small, family-run, event organiser. The 'Mr and Mrs' team focussing on running a couple of friendly, welcoming races out of the Ashton Keynes Water Park in the heart of the most beautiful part of the Cotswolds. 113 Events, Cotswold based Triathlons focus on the Middle distance triathlons, Cotswold 113 and Cotswold Classic.
The first event that took place in 2010 was really born out of necessity as there just wasn't a nice flat, fast middle distance event spaced about right for the preperation of around 30 of us from Swindon Tri Club heading out to IMCH. We opened the race up to a few local clubs to get the numbers up and begged, borrowed and scraped together just about everything we needed to use to make a middle distance race from the lake we all train at, and the roads I spend hundreds of hours a year riding my bike on. The numbers were left overs from the sprint race I help to organise in Highworth and the timing was the good old fashioned stopwatch and clipboard. Everyone that came had to bring a marshal, and the race ran so well and received so much good feedback that in 2011 we decided to run it at a proper event. That's when Cotswold113 was born.
The first 113 event ran (in front of the scenes at least) very well and again took a lot of kind words from competitors, many of which wanted to come back in 2012 to race again.
Unfortunately, with the change around of the timing of a few of the European Iron Distance races, not everyone could make the weekend at the end of June, so we've had a lot of requests to run something very similar towards the end of the year. This is how the Cotswold Classic Middle distance event, which ran for it's first time on August 26th 2012, came about.
What we will provide is a nice fast course aimed at athletes either new to the distance, looking for an easy IM run up event, or someone looking to smash a new Middle Distance PB.
When you enter any of our 113 events, you'll get aid stations packed with everything you could possibly need, a course set in a beautiful, quiet part of the countryside, a T-shirt that you would actually wear training  (rather than for sleeping in or cleaning derailiers) and a friendly, fun day that you'll enjoy and can bring your friends and family along to enjoy also.
We'll always endeavour to answer your questions in full and be happy to try and tailor things to how you would want them as a racer, a team member, a club or as a supporter, parent or partner of a competitor.
Our events are the races I've always hankered for after years of middle distance and Iron distance racing, and we hope they'll suit you all too.
Cheers and happy training!